Does your horse have chipped, cracked, dry or brittle hooves, or thin walls that make it hard to nail a shoe on?
Does your horse constantly lose shoes?
Lock your horse's shoes on with DEADLOC.
DEADLOC is two-part structural adhesive glue for bonding aluminum horseshoes or racing plates to horse's hooves without the use of nails. DEADLOC keeps them locked on for the life of the shoe! Rusty's DEADLOC is packaged in a user friendly, 50 ML tube. No expensive dispensing guns are needed for this fine product! Use Rusty's DEADLOC with a standard caulking gun!
For application instructions, please visit the Educational lesson "Gluing on Aluminium Horseshoes"
Rusty's DEADLOC is available in two styles:
R1- Starter kit
R2- 50ML replacement tube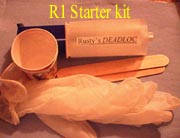 R1 Starter kit: $14.95
50 ML tube Rusty's DEADLOC (1)
Mixing cups (2)
Application and mixing sticks (2)
Disposable latex gloves (2 pair)
Standard Caulking Gun adapter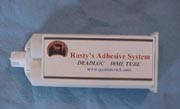 R2 50ML replacement tube: $10.00
1 50ML tube of Rusty's DEADLOC glue
Rusty's DEADLOC can be ordered exclusively through Dayvon Supply.
Click Here to place your order now!